Xocai Protein Bar, the Ultimate Antioxidant Bar!
The Xocai Protein Bar combines the antioxidant benefits of the finest, all-natural, unprocessed cocoa powder, the acai berry, and other high-antioxidant berries to deliver a high-ORAC (Oxygen Radical Absorbance Capacity) value protein bar.
The Xocai Protein Bar has 10 grams of soy protein, the equivalent to 2 large eggs, and it is sweetened with Isomaltulose, a low-glycemic sweetener. Each case of Xocai Protein Bars contains 4 display boxes each containing 10 Protein Bars.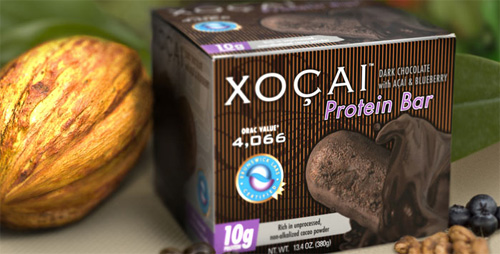 The Benefits of the Xocai Protein Bar
The Xocai Protein Bar (38g) is the perfect low-calorie, high-protein, and high-fiber meal-on-the-go providing the necessary antioxidants, carbohydrates, and vitamins that our bodies need and only 4g of fat and 7g of sugar which comes from organic Agave syrup (glycemic index of only 27!).
Whether you are looking for the recommended antioxidants, that extra energy, more protein, or to shed those excess pounds, the Xocai Protein Bar, the Ultimate Antioxidant Bar, is the answer!


Buy Xocai Protein Bars from our Online Shop

Return from Xocai Protein Bar to Xocai Chocolate