Weight Loss Testimonials
Dean T. Miceli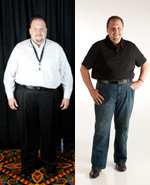 "Over seventeen years ago I was married and weighed 165 pounds, had less than 10 percent body fat, met with a nutritionist weekly and worked out five or six days a week. I understood being fit and joked since that time that I hadn't seen the inside of a gym since I got married.
"Knowing what it would take to lose weight and get in shape, I had for years claimed that I could easily lose weight the minute I decided to. Unfortunately, I never made that decision as I viewed dieting as having to 'go without' and being hungry.
"Getting started on the X Protein Meal Shakes I had some question as to whether or not my hunger would be satisfied, and if I could I truly 'go without' and lose weight. I am extremely happy with the results of this product and program, as I have lost weight and inches without the cravings and the hunger that I had feared.
"The increased energy and sense of wellbeing from this product have led to increasing my activity, starting with walking and now jogging several miles per day. I am over halfway to my goal weight in just 12 weeks. I look forward to continuing my weight loss and maintaining a healthy lifestyle with the Xocai High-Antioxidant Weight-Loss System."



Dr. Janet Shefts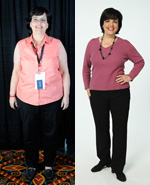 "I have been a practicing chiropractor in New York City for over 24 years. Prior to becoming a chiropractor, I was a high school teacher and coach. I was also a world-class athlete competing as a member of the US National Olympic Handball team, until a major knee injury ended my playing career.
"My years as an athlete created debilitating chronic lower back and knee pain. This began a vicious cycle of pain, frustration, depression and excessive weight gain. I was trapped in my own dysfunctional body and couldn't find my way out.
"That is until recently when I was introduced to Xocai Healthy Chocolate. I was chosen as one of the 50 participants in a clinical trial for MXI's new X Protein Meal Shake.
"I began the clinical trial 12 weeks ago at almost 57 years old. My beginning weight was 221 pounds and my waist measured 42 inches in circumference. Now, my weight is 191 pounds, my waist measures 36 inches and I have dropped over three clothing sizes. I have more to lose and am committed to this program.
"The real Janet, the one trapped inside that big painful body, is back—happy, healthy and confident."



Morgan Alsop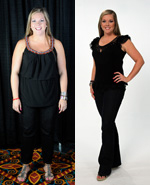 "I went into this study ready to make a difference in my life. I have always battled with my weight and that has really taken a toll on me physically. I started on this program June 21, 2010, with little to no energy and working out was not even on my list of things to do.
"By the third day of being on the Xocai High-Antioxidant Weight-Loss System I was able to go workout with my fiancé, running stairs at the local high school. I had the energy to want to workout. I started walking one or two miles, five times a week. By the middle of July I was really starting to notice that my mood was better and I
had a major increase in energy.
"The accountability calls every week helped as well. I knew that I had a group of people who truly cared about my success and wanted to encourage me the entire time. The past 12 weeks have been an emotional journey for me, but I have made a lifestyle change for myself! I know that I will be fit for life with the help of the Xocai High-Antioxidant Weight-Loss System."



LaRue Johnson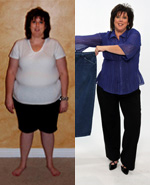 "In 1984 I was in a skydiving accident and broke my leg and ankle, resulting in a plate being placed in my leg and lots of back pain. Ever since that accident, impact sports and other activities have been very painful, so I pretty much stayed away from them.
"I am now 44 years old and have had five children. The years of little exercise coupled with child bearing found me very overweight. Since starting this Xocai High- Antioxidant Weight-Loss System, I have lost 29 pounds and 22.5 inches overall.
"I'm wearing smaller sizes than I was 16 years ago. I am exercising at least five or six days each week, lifting weights and enjoying life again. I'm never winded; I have muscle definition and am stronger than I have been in many years. I'm happier and healthier than I have been in 20 years. This product is the best tool I have because my cravings are gone. I'm not hungry, and I have enormous amounts of energy and want to exercise!"



Jennifer Lucas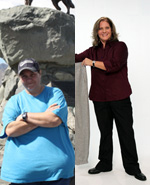 "On June 21, 2010, I weighed in at 249.8 pounds. At the end of the 12-week clinical trial, I weighed 201.8 pounds—I lost 48 pounds.
"The X Protein Meal Shake has unlocked the pathway to weight loss unlike anything else I have ever experienced. I've tried many other products and programs. The difference with this program is how the shake makes me feel. I have increased energy and absolutely no cravings. I am not hungry, yet have plenty of stamina for extra workouts.
"I've always been athletic and because of the anti-inflammatory properties, I have noticed faster recovery and have gained muscle quicker with this product than ever before.
"For the first time in my life, I truly feel that I will reach my goal weight with what I am doing. That, to me, is success. This program WORKS! As a nurse, I am excited about the proven science behind this product. It's not just a fad diet. It's true; it's convenient, nutritious and delicious. It's what I needed."



Larry Cundieff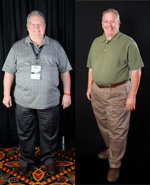 "In 1998 I was seriously injured in an industrial accident, which left me with a severed bicep muscle and required five major surgeries. I was out of work for an entire year. Due to the stress of the accident and unemployment, I gained in excess of 80 pounds and was regularly in severe pain. Starting a weight-loss program was "not a high priority to me because that meant exercising and exercising, subsequently, meant pain.
"When Xocai offered their High-Antioxidant Weight-Loss System, I was selected to participate in their clinical trial for the product. The X Protein Meal Shake allowed the chronic pain and inflammation in my body to virtually disappear, thus allowing me to exercise pain free.
"My starting weight on June 21, 2010 was 304 pounds. In 12 weeks I have lost 51 pounds and 8 inches off my waist. Thanks Xocai!"



Mary Evelyn Kimbro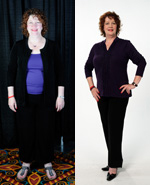 "It was with some trepidation that I sent in a video requesting to be part of the clinical trial for Xocai High-Antioxidant Weight-Loss Sysytem. I really thought that my weight was just something I needed to address with self-discipline. I am so glad that I decided to step out of my comfort zone and deal directly with my weight problem.
"I can honestly say that the Xocai High-Antioxidant Weight-Loss System has changed my life! Drinking two shakes each day, choosing healthy snacks and having a healthy lunch has made the process much easier for me.
"Because we are using the team approach, I know that I am never alone. I am accountable to people who are experiencing the same things that I am experiencing. Success is the only option when following this plan!
"I was 44, fat and frumpy. Now, I am 45, fit and fabulous! I will never be without my X Protein Meal Shake. It has become a way of life for me."





---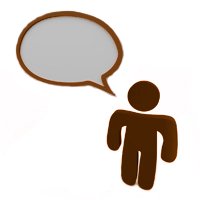 Have A Great Story About This Topic?
Has Xocai Chocolate had an impact on your and your family's health? Please share your story!