Product Information:
Xocai Nuggets
Xocai Nuggets, are an extremely high cocoa content chocolate combining the exotic flavors of dark chocolate with Acai and Blueberries. Each 12-gram Xocai Nugget is made with rich, dark, Belgian Chocolate. There are 100 Nuggets per case.
They are suitable for Vegetarians and are considered a "Clean Product":
No Artificial Colours, No Artificial Flavours, No Preservatives, and No Sucralose. Each 12-gram piece of Xocai Nuggets has an ORAC Value or Antioxidant Content of 3,120.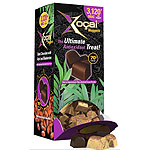 Nutrition Facts:
Serving Size 12 g (1 Piece)/ Servings per Container 100 / Amount Per Serving / Calories 70% Daily Value (DV%)* / Fat 4.5g 7% DV Saturated 3g / 14% DV Monounsaturated 1.5g / Trans 0g / Cholesterol 0mg / 0% DV Sodium 10mg / 0% DV Carbohydrate 6g / 2% DV Fiber 1g / 6% DV Sugars 3g / Protein 1g / Vitamins and Minerals / Vitamin A 0% DV / Vitamin C 0% DV / Calcium 1% DV / Iron 4% DV
*Percent Daily Values (DV) are based on a 2,000-Calorie diet. Your daily values may be higher or lower depending on your calorie needs.

Ingredients:
Dark Chocolate [Unsweetened Chocolate, Raw Cane Juice Crystals, Cocoa, Lecithin (emulsifier), Acaí Powder, Blueberry Powder.
• Kosher Certified
• Alergy
• Produced in a facility that processes milk, peanuts, tree nuts, soy and wheat. Dark chocolate may contain milk

Buy Xocai Nuggets




Power Squares
The Xocai X Power Squares use cacao that is blanched, unfermented, sun-dried, non-roasted and cold-pressed, which means it boasts eight times the levels of epicatechins and catechins, and four times the levels of procyandins than cacao produced with standard processing. X Power Squares are loaded with antioxidants and have an unparalleled ORAC Value of 3,582 per 6g Square. The Xocai X Power Squares are the most powerful, health-promoting, decadent chocolate ever produced.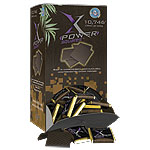 Nutrition Facts:
Serving Size 18 g (3 Squares) / Servings per Container 46 / Amount Per Serving / Calories 100 / Calories from Fat 55 / % Daily Value (DV)* / 23% DV TRANS 0g / Cholesterol 0mg /Sodium 9mg / 1% DV Carbohydrate 9g / 3% DV Fiber 2g / 8% DV Sugars 7g / Protein 2g / Vitamins and Minerals / Vitamin A 0% DV / Vitamin C 0% DV / Calcium 1% DV / Iron 12% DV
* Percent Daily Values (DV) are based on a 2,000-Calorie diet. Your daily values may be higher or lower depending on your calorie needs.

Ingredients:
• Dark Chocolate (Unsweetened Chocolate, Raw Cane Juice Crystals**, Cocoa, Lecithin [emulsifier]), Açaí Powder, Blueberry Powder
• Alergy
• Produced in a facility that processes milk, peanuts, tree nuts, soy and wheat. Dark chocolate may contain milk
• Suitable for Vegetarians and Vegans
• Total Flavonoids
• Recent studies on cacao have concluded that best results were obtained by consuming daily 600-900mg of Total Flavonoids, plant- based antioxidants that help the body's cells resist damage by free radicals. X Power Squares™ have an astounding 1,008mg of Total Flavonoids per serving (18g)
• Kosher Certified


Buy Xocai Power Squares

Xocai Xe - Healthy Energy Drink