Acai oil - strongest antioxidant for skincare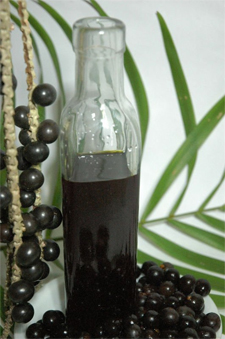 The seeds and pulp of Acai berries have been used for centuries by the natives of Brazil for their unmatched healing and nutritional properties. The Acai berry abounds in essential fatty acids such as Omega 3, Omega 6, and Omega 9. There are also many other vitamins such as B1, B2, B3, E, and C, minerals such as Phosphorus, Calcium, and Potassium, as well as polyphenols, anthocyanins, and phytosterols.
However, these essentials haven't made ACAI the world's "Number one superfood" described by Dr. Nick Perricone, it's the ORAC value of the Acai, or it's antioxidant power. Acai is a more potent antioxidant than mangosteen, prunes, pomegranites, cranberries, nothing comes close. The Acai Berry boasts the highest per unit value of antioxidant power (ORAC) of any
edible fruit in the world.
Acai oil is obtained from the fruit of Euterpe oleracea (acai palm), which grows in the Amazon Rainforest. It is high in oleic acid (omega-9) and palmitic acid. Acai oil is green in color and exhibits a bland aroma.
Acai Oil is cold-pressed from the seeds of the Acai berry. Berries are gathered by hand from protected regions of Amazon rainforest and immediately processed under cold and air-free conditions to yield the freshest, purest oil possible. For lotions, balms, anti-ageing serums, after-sun formulations, anti-wrinkle creams, and facial products.


Return from Acai Oil to Acai Berry Information